Drove to downtown Montreal.  It's a pretty sweet place, tons of people out.  Lots of fancy cars (360 Modena, F430, Lamborghinis) and even more fancy people.  There was a bunch of sections of the city that were blocked off for what looked like some sort of festival.  We didn't want to stay out to late and we couldn't find any parking so we didn't get to check em out.  Tomorrow.  We drove over to the Casino de Montreal on Ile Notre Dame at the center of Circuit Gilles Villeneuve.  We weren't able to walk around but it's super cool looking.
Random blocked road
You probably can't see but we were driving behind a Vodaphone Mclaren Mercedes transport vehicle.
Crossing the bridge to Ile Notre Dame and pulling up to Casino de Montreal.
Casino de Montreal
Post trip meal.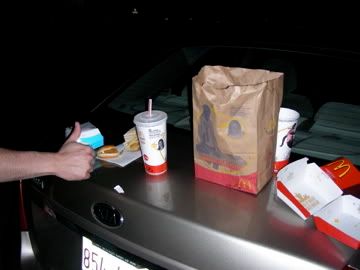 The McDonalds logo in Canada has a maple leaf on it.  Picture of Eric pointing out this fact mid chew.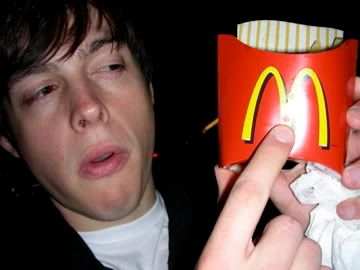 I'll have updates after qualifying tomorrow.
Johnams